When organising an event for your staff some difficulties or concerns might arise. The HR might be worried that the staff won't interact enough whereas a CEO might care more about the absolute objectives of the event. To successfully organise a staff dinner where your team will actually bond with each other, try one of these hacks:
1. A greater good.
Make the event about more than just a fun evening with the team. A greater good will bring your guests a meaningful experience and give your event an impact that will bring your staff closer together. With Hole in One teams construct mini golf courses with packed foods which will be donated to a charity of your choice.
2. Enhance creativity.
Unwrapping your guests' creativity will place your staff in a different setting and this will make your event the one they will be talking about for weeks, months or even years. By letting teams build and adorn their own sleigh ride, a stream of hilariousness that will tighten your staff's bonds will be generated. Flat out sleigh ride is a program completely designed around uniting teams at a Christmas party or end of year event.
3. Entertain your guests.
Keep your guests engaged throughout the whole dinner or party but don't overload them with a list of tasks during the event. In the end, they're not there to work. Instead, provide them with something that will keep them on their toes and will make them want to stay until the end of the event. A program that could perfectly meet these needs is Final Furlong. It gives your staff the chance to bond outside of the work environment whilst staying classy and focused.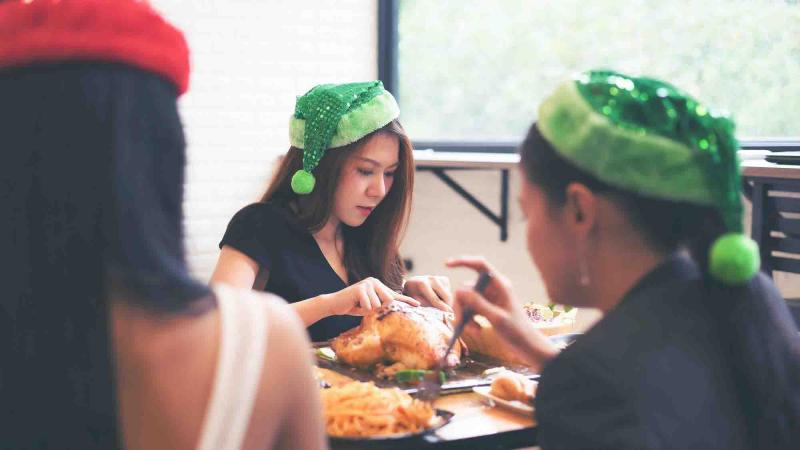 4. Reward your staff.
A great way to bond with people is to celebrate together. Design your whole event around thanking your staff for their work and achievements throughout the year. Quickfire Christmas is a great way to do that. The unique interface offers up a festive selection of mental, creative and active challenges that encourage spontaneous interaction. This is another program that could be organised during the whole course of your event or dinner.
5. Spice it up.
Add a tasty twist to your staff dinner and put your guests' taste buds to the test. This twist could consist of something like cucumbers, peppercorns, lemon zest or even rose petals. Don't look any further: Team Tonic is your go-to program. This short program will instantly spice up your event and teach your guests everything there is to know about gin. Oh, did we forget to mention the teams will also bond incredibly by working together to create the perfect gin and tonic.
6. Make an impact.
During the season of giving many people think of the less fortunate but not everyone gets the chance to contribute. Incorporate this into your event to give your guests the feeling of generosity and satisfaction. With every program we organise, we create a social impact across the globe. Ask us how.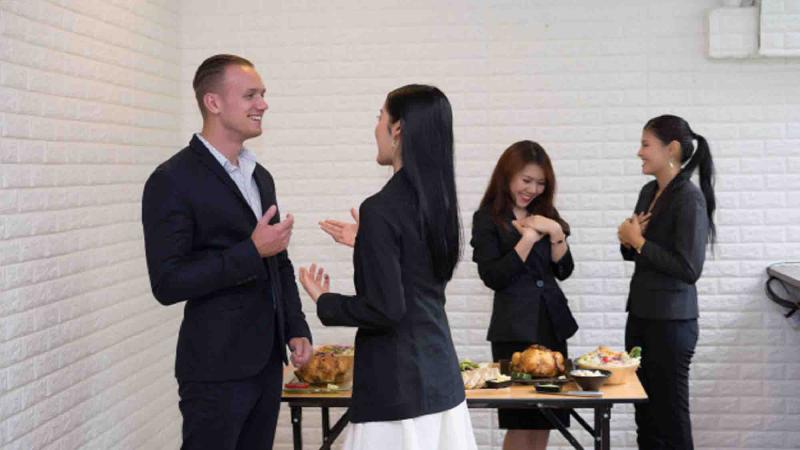 7. Energise your guests.
Give your guests an extra boost before the end of the year by inviting them to a super dynamic dinner. An energetic event will make them connect with each other in no time. Win it in a Minute is one of the most popular fast-paced games with teams completing challenges within a minute. This short boost can be added in thirty minutes but could also last for two hours of fun.
8. Take strategy to the next level.
If your staff is all about networking and strategic relationships but not so much about creating personal bonds, challenge their need for strategy by involving them in an activity where they need to collaborate to succeed. For example, our program Twelve teams of Christmas gives teams the goal of accumulating goods by building relationships with other teams, while using their cunning to gather vital information. Negotiation and trade are key to maximising the returns, however, the most successful teams are those that collaborate with others.
9. Create a harmonious atmosphere.
There is no better way to make your guests work together than to integrate food or drinks with harmony. This can be done by getting them to work together in sync. Orchestrate is an extremely glamorous activity. It stretches people beyond their perceived limitations. This program teaches people with no musical ability to play like a real symphony orchestra in just 90 minutes. Ba-dum tss!
10. Theme up.
If all that is a little too much for you, just set a theme throughout the whole event. This will evidently create a feeling of unity. Many of our programs can be tailored to the message you want to get across. Just get in touch and we'll take care of the rest.